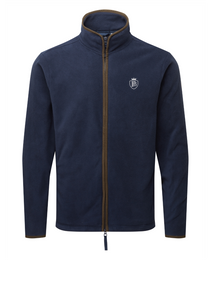 Taking inspiration from the hugely popular 'Lympstone' fleece gilet, this men's long sleeve jacket is designed in the same way, with a pleasing contrast coloured trim framing the collar, zip and cuffs. Features two zipped side pockets and two internal open pockets. Stitched side panels help the fleece fit comfortably, with a two-way zip allowing the wearer to zip from the hem upwards, for practicality. A welcome outerwear addition to our 'Lympstone' range.
Size Guide - To Fit Chest
Small 34" 
Medium 38" 
Large 42" 
XLarge 46" 
2XLarge 50" 
3XLarge 54"
Pre Order Now for April Delivery!